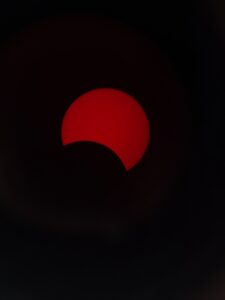 Every month, we will share an image obtained with one of the astronomical infrastructures of the LaSciL project.
Our choice for November is this fine register of a partial solar eclipse taken by student of one of LaSciL's partners Ellinogermaniki Agogi (EA) in Pallini, Greece.
On October 25th, 2022, a partial solar eclipse was observed in Europe and Asia. The Moon covered up to 82% of the Sun's disk depending on the observer location.
In Greece, the coverage was smaller (26%) but that did not discourage the students and school staff to observe the cosmic alignment. The picture above was taken by Konstantinos Mousamas, a student of EA, that observed the phenomenon from the school's observatory.